*** MEGA STRONG ***
---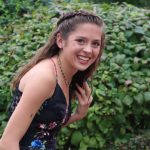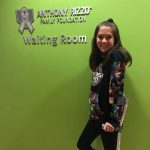 At the end of October 2018, high school freshman Megan and family received the bad news that she has high grade Glioma cancer. She is looking at a yearlong treatment and battle.  Here is her story with running.
Megan first came to the Accelerators in 2012 but not as a runner. Her twin Andy started coming to Accelerators as a (race age) 9 year-old. Megan did not participate at first since her passion at the time was dancing. Many times she would sit at the Windmill picnic tables during practices while Andy ran and raced in 2012. As many people know/experienced, Coach Scott was constantly talking with her and encouraging her to "just" come and run a bit.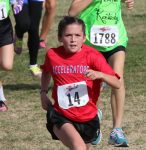 Eventually, Megan was convinced (or got tired of coaches talking to her) that she could run while continuing to dance. She started running several times a week and having "some fun" at Accelerators practices. Her first season of running cross country was in 2013 as a Bantam. That was the first year that the Accelerators XC meet was held at Herget. She ran a respectable 15:34 on Coach Keith's hilly 3000m course. She ran her first Nationals race in Louisville and broke the 8 minute per mile pace for the first time.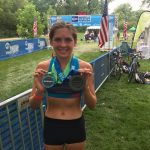 Around the end of fifth grade, running clicked with Megan and her times started to drop (mile time was nearly a minute faster than the year before). The Accelerators coaches noticed an attitude changed with her willingness to work hard towards goals. After her first middle school cross country season, she ran a 6:30 per mile pace at the National races and made All-American.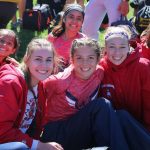 During the last two years of her middle school cross country running career, she became a leader/mentor for the Herget Huskies and Accelerators as well. At Herget, she acquired the name "Mega" and led the Herget team to winning the IESA Class 3A Championship. During those last two years, she was an All-American at the Accelerators Nationals meet while contributing to first and second place finishes by the youth girls team.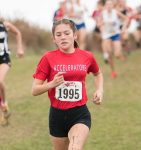 Megan was recognized as a Herget team leader. She was awarded the 2017 Accelerators' Pride and Perseverance Award for being a leader, having pride in what she does, persevering through hard times, and being an example to her teammates (Accelerators and school).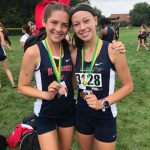 During the spring before high school she brought her mile time down to 5:26 and was looking forward to success in high school.
Megan started the 2018 cross country season by placing third at the Aurora City Championships. Her first race at Detweiller Park was a great 18:30 for three miles. Over the next several weeks she ran fine but did not look smooth running. Megan was complaining of some pain in her back.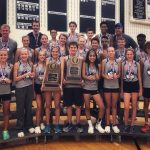 Over a weekend she went from racing, to homecoming, to feeling terrible, to not having motor skills, to the hospital(s), to emergency surgery. Surgeons removed a tumor from within her spine which had grown to the point of pressing against her nerves. Megan spent most of the month of October at a rehab facility doing lots of physical therapy. Being strong willed, she is working hard to re-master motor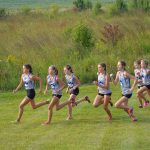 skills. She has amazed the medical people and probably broke a few records for recovery for the type of surgery performed (we all know she is strong and amazing). She was released from the facility and is continuing therapy. A few days after being home, the tumor test results came back as cancer. At the start of November, Megan starts the next challenge with a proposed year-long treatment by radiation and chemotherapy.
Megan's school cross country coaches have set up a Go Fund Me page to help offset the expected expenses that her family will incur.
Please consider contributing by clicking HERE.
The Accelerators are MEGA STRONG.